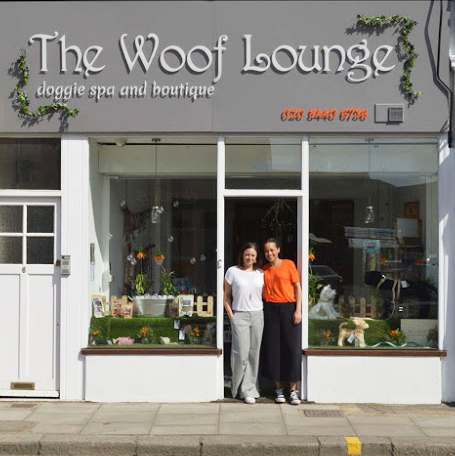 Welcome to The Woof Lounge where we love your dogs like our own!
Having worked stressful jobs in offices for some time, I was looking for a new, more fulfilling path, something I really enjoyed, something I was passionate about and I was definitely not wanting to go back into an office environment.
I got Hudson, who is a Tibetan Terrier, over a year ago (2015!) and he made it very clear from quite early on that he did not appreciate being left alone! During one of his morning walks, watching him jump in and out of muddy puddles like he loves to do (me dreading the mess in the bathroom cleaning up!) and watching him play with all his furry friends, I thought how wonderful it would be, to be surrounded by these excitable, loving creatures all day and with the help of my cousin Naomi we got to work in thinking up a plan and that's how The Woof Lounge began to take shape.
Knowing that only the best will do for our customers (4 legged & 2 legged!), we thought carefully about every detail in creating The Woof Lounge, from the products we use in our grooming packages, to the products we clean our equipment with, to the products we sell and to the treats we spoil them with whilst under our care – all natural, all kind, all healthy, absolutely no chemicals and where possible, sourced from the UK. You can rest assured your pets will be treated like our own and are left in safe, knowledgeable and loving hands.
Having been trained by award winning groomers and completing a City & Guilds Level 3 in Dog Grooming which includes training on, Animal Health & First Aid, Handling Techniques and Understanding Animal Behavior, we are ready to open the doors to The Woof Lounge to pamper your pooch, welcoming all furry fellows, from Chihuahuas to Great Danes.
Please do come on down and say hi – we look forward to meeting you!
"Ernie just got back from another woof at the woof lounge and he loves it! He looks fantastic and smells amazing so we love it too! Ernie is always excited when he arrives so we have no worries leaving him in the care of the professional and friendly women of the woof lounge! See you again soon x "
– Anna with Ernie the Frenchie
"Absolutely lovely ladies here! Felt so comfortable leaving Zeus there and he looks so good now. Will definitely be back here for the next one!"
– Kimberley with Zeus the Husky
"An excellent job – thank you! I was really impressed with the little extras included like choosing her fragrance. A great, and quite different, grooming experience. I also loved Mini's new bow and goody bag – thank you!"
– Claire with Mini the Shihtzu Pom cross
"Dougie and Rosie went to The Woof Lounge today and they look and smell great. The girls are very friendly, professional and seem to really love the dogs. Great range of products too. I highly recommend The Woof Lounge."
– Sam with Dougie & Rosie the Spaniels
"Great professional service. Friendly atmosphere. Highly recommended. I will come back there with my dog for sure."
– Magda with Cora the Miniature Shnauzer
"Lovely new shop with very helpful/friendly staff. Tulip (bichon) now looks beautiful and smells gorgeous. She seemed very happy when I picked her up; obviously enjoyed the pampering:) We'll be back soon. Highly recommend."
– Jenny with Tulip the BIchon
"Mira looks and smells fab following her wash and cut today. The orange bow in her collar is a nice touch too. Lovely friendly ladies who put her at ease with a few healthy treats. Very clean and modern environment with natural products – we will definitely be back."
– Henrietta with Mira the Cesky Terrier
"The Woof Lounge has such a professional and lovely atmosphere, brilliant service and products. Alfie is now knot free"
– Leah with Alfie the Cockapoo
"Really friendly. Done a brilliant job on my dog I'm so pleased with how she looks and will defiantly be coming back, thanks again… so happy, Honey looks and smells beautiful – highly recommend. A******"
– Tanya with Honey the Shihtzu